MCD 72
Stakeholder workshop to support Nam Dinh in implementing the Provincial Action Plan on Marine Plastic Waste Management
On the morning of March 30, 2022, Centre for Marinelife Conservation and Community Development (MCD) in collaboration with the Department of Natural Resources and Environment (DONRE) of Nam Dinh Province organized a stakeholder workshop to support Nam Dinh in implementing effectively the provincial action plan (PAP) on marine plastic waste management (MPWM). The workshop mobilized the participants from related central agencies, national experts and stakeholders in the province, thereby enhancing initiatives and efforts in MPWM and promoting cooperation between agencies, departments, organizations and communities in Nam Dinh for the implementation of the PAP on MPWM.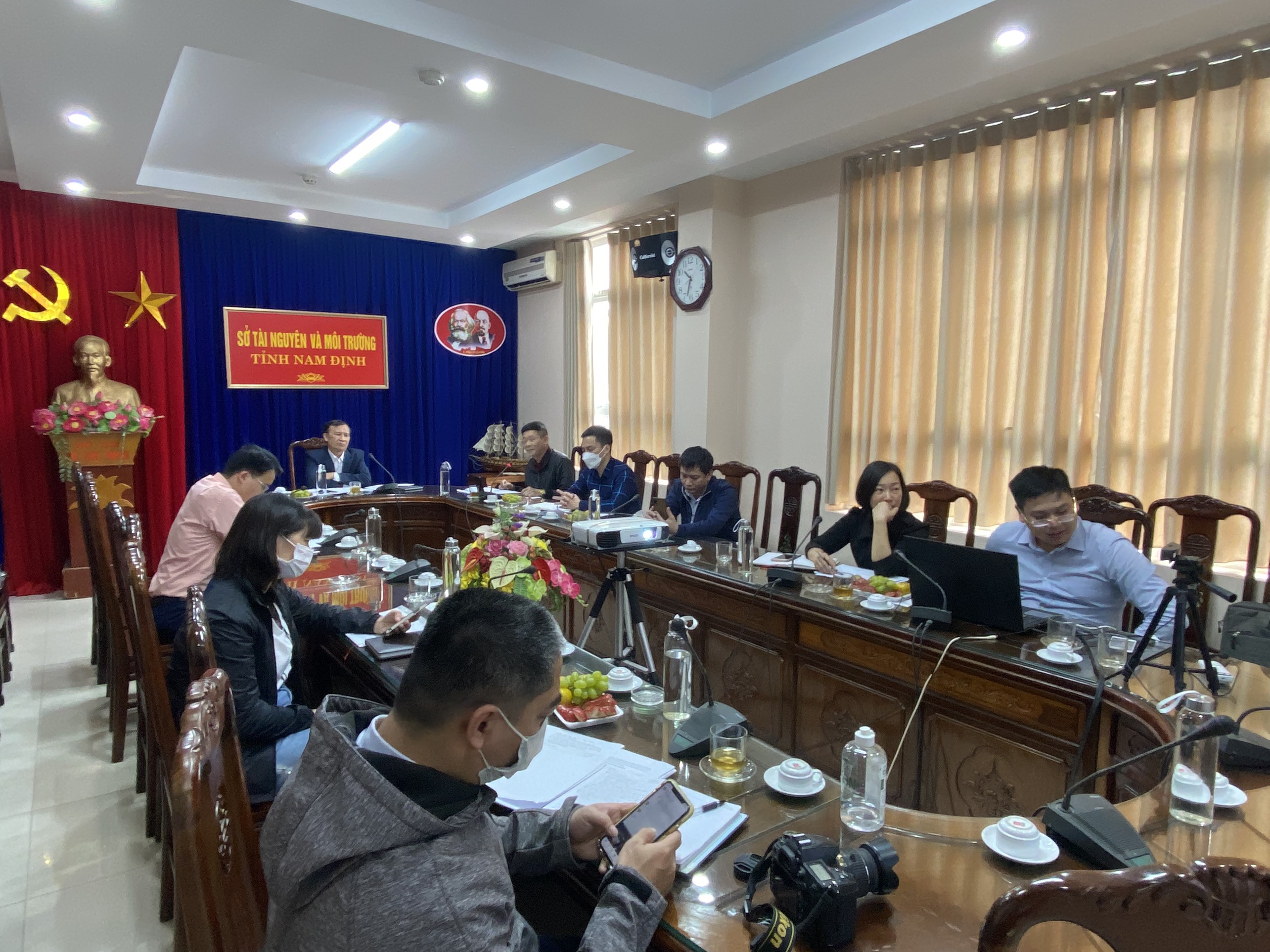 The workshop was organized in the blended face-to-face and virtual formats with the participation of more than 70 delegates including representatives of some central agencies: Vietnam Institute of Seas and Islands from Vietnam Administration of Sea and Islands, Vietnam Academy for Water Resources, MCD, and related environmental organizations; and delegates from Nam Dinh province: Leaders and officials of DONRE; Representatives of the Departments of Culture, Sports and Tourism, Planning and Investment, Finance, Industry and Trade, Transport, Construction, Science and Technology, Health, Information and Communication, Education and Training, and Sub-Departments of Fisheries and Irrigation, Provincial Youth Union, Provincial Women's Union, Xuan Thuy National Park Management Board, Nam Dinh Environment Joint Stock Company, Nam Truc Green Environment Company, People's Committees of Nam Dinh city and districts of Giao Thuy, Hai Hau, My Loc, Nam Truc, Nghia Hung, Truc Ninh, Vu Ban, Xuan Truong, Y Yen. The workshop was reported by representatives of national and local media agencies.
The workshop is an activity of the project "Accelerating effort to reduce plastic waste in Vietnam" implemented by MCD with funding and technical support from Ocean Conservancy. This project aims to promote stakeholders cooperation and connect technical supports to increase the effectiveness of plastic waste reduction efforts in Vietnam, contributing to the implementation of the National Action Plan on MPWM.
At the workshop, Ms. Ho Thi Yen Thu – Standing Deputy Director of MCD said: "In recent years, MCD has succeeded in a number of studies, technical innovations and practical models to assist enhancing the solid and plastic waste management in Nam Dinh, and connecting national and international technical supports. In this project, MCD continues our assistance to Nam Dinh, with activities for research on status of solid and plastic waste in riverine and estuary areas, strengthening capacity of local officials and communities, and promotion for implementation of the PAP on MPWM, thereby contributing to environmental protection, ecosystem conservation and improvement of coastal communities' lives."
Mr. Phan Van Phong – Deputy Director of the Nam Dinh DONRE made remarks: "After the National Action Plan on MPWM until 2030 was promulgated by the Prime Minister at the end of 2019, Nam Dinh actively made its effort accordingly by prompt development and issuance of a PAP on MPWM until 2030 on February 4, 2020 and disseminated the PAP to the related agencies and departments in the province. However, the PAP implementation has faced many challenges so far, especially in the complicated situation of the Covid-19 pandemic. Therefore, we highly appreciate the support and guidance from central agencies such as the Vietnam Administration of Sea and Islands, the assistance from the MCD, domestic and foreign partners and experts in this project. We hope that with the success of today's workshop and the support of the project, Nam Dinh will step by step effectively implement the PAP on MPWM towards achieving its goals."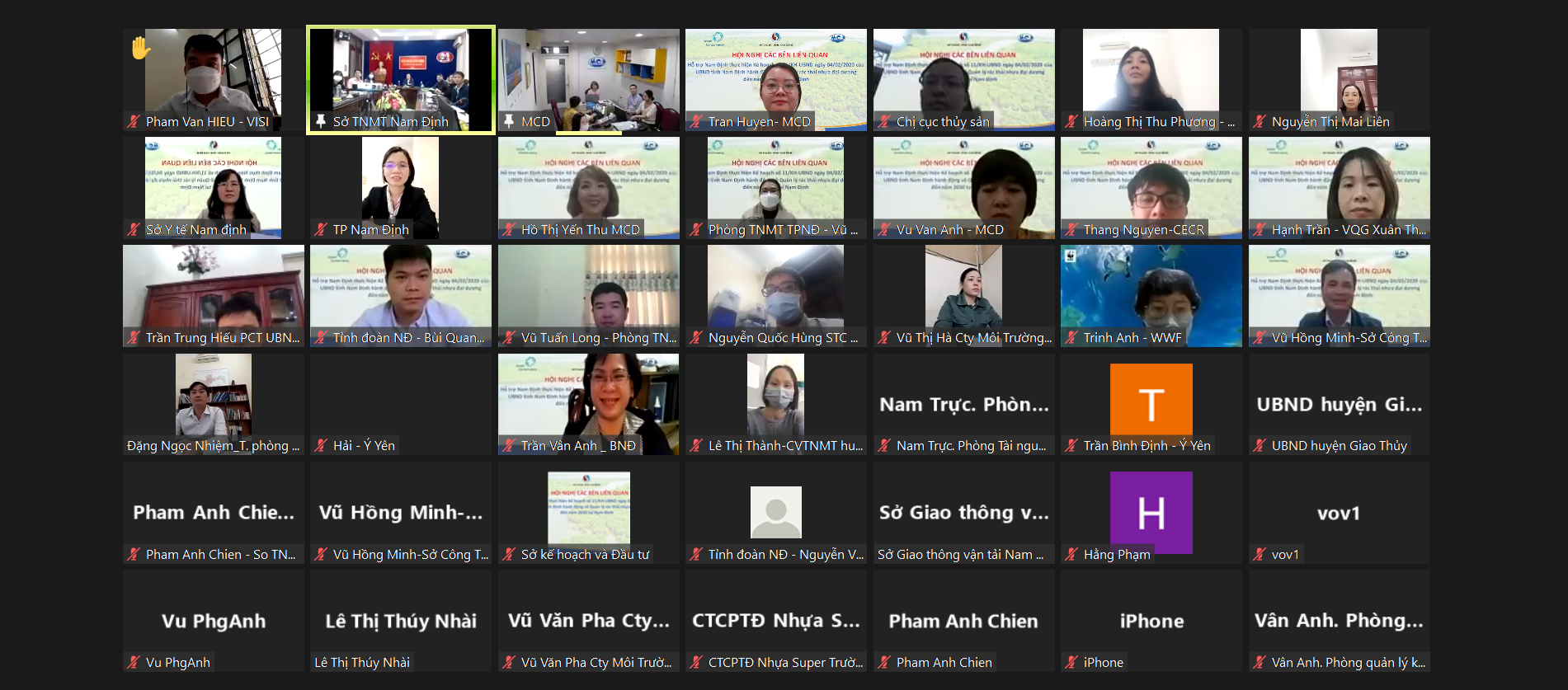 At the workshop, the delegates have exchanged comments and opinions, discussed the local situations and proposed solutions to overcome difficulties and challenges, identified the needs for local capacity strengthening in the MPWM, agreed upon manners to strengthen coordination between public – private – people partners to accelerate the implementation of the PAP on MPWM in Nam Dinh.
For press information, please visit: http://ven.vn/stakeholder-workshop-supports-nam-dinh-in-marine-plastic-waste-management-45582.html