Communication and advocacy
Millions small actions will create a great result
That was the message at the meeting ceremony "Adapting to climate changes" held by the Centre for Marine life Conservation and Community Development (MCD) in collaboration with the Department of Natural Resources and Environment of Khanh Hoa province on 06/24/2014 at Nha Trang – Khanh Hoa. The event line in MCD's Communication theme throughout 2014: "Transform for Climate Change Adaptation" which purposes are to raise public awareness and enhance Climate Change adaptation actions through promoting sustainable livelihoods and coastal resource management practices in coastal communities in Vietnam.
Mr. Mai Xuan Hung, Deputy Director of the Department of Natural Resource and Environment kicked off the ceremony
In order to share information, raise awareness and promote action to cope with climate changes under the perspective on livelihoods, natural resource management, disaster reduction, adapting to climate change and themes, the ceremony was attended by the leader of Khanh Hoa Department of Natural Resources and Environment, with more than 100 participants from the youth group of Nha Trang University, agencies, associations, and the media units of the province.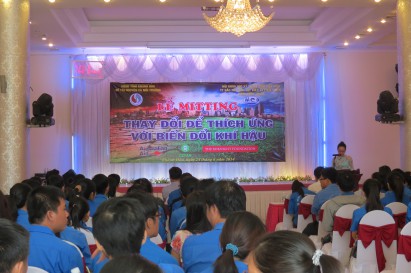 The highlight of the ceremony was the lively and practical speech of two representatives from the Khanh Hoa Department of Natural Resources and Environment and Nha Trang University. Besides, with the theme "Adapting to climate changes," we showed films of MCD's campaigns which were made to protect the environment. Next, climate changes puzzles received enthusiastic participation and helped participants understand more about climate changes, its impacts and how to adapt to it.
The ceremony "Adapting to climate changes" withdraw the attraction, engagement, and the response to climate changes of the participants in particular and community level in Nha Trang city in general. The enthusiastic participation of the youth Union force and the Department of Natural Resources and Environment and Nha Trang University has drawnmedia attraction about climate changes which widespread to the communities Nha Trang city, the agencies and organizations so that the message "Millions small actions will create a great result" can reach the entire community through the daily activities.
The activities line in the framework of the project "Building partnerships to enhance the ability to adapt to climate changes and coastal communities of Vietnam" (MCD 46) with financial support from the Australian government and technical support from Oxfam. The goals are: to strengthen the ability of local coordinators, leader of the livelihoods of gender mainstreaming skills, event organizing, leadership, teamwork, conflict resolution and synthetic knowledge about climate changes and the soft skills to help collaborators able to communicate to people about climate changes and livelihoods adaptation for households in the community.